Poetic Explorations with the Whitewashed Conundrums
Recorded live in concert at Jazz Central Studios, Minneapolis, Minnesota
Out of the depths of a Minnesota winter comes a night of spontaneous sonic combustion, when the poems, prayers, rants, and reminiscences of D.J. Haliday meet the kinetic sound-sculptures of Greg Stern (percussion), Doug Reed (upright bass), and Sean Egan (clarinet and piano). Featuring an appearance by guest artist Renée Copeland.
Aaron Kerr: ODIN
Recorded live over two days at IPR Studios in Minneapolis, Minnesota, "ODIN" is a jazz concept album based on the mythological Norse god of wisdom, poetry, death, and magic. Composer Aaron Kerr combines his cello with Justin Deleon on drums and Sean Egan on clarinet, bass clarinet and piano to create a minimalist yet spacious and exotic sound.
Conundrums of Indignant Bliss
The new reimagining of D.J. Haliday's poetry collection "Conundrums of Indignant Bliss".
Brought to life by Haliday's vibrant narration against the masterful improvisational compositions of Sean Egan, the words leap into multi-dimentional soundscapes, brimming with raw power…an epic journey!
"A cinematic, aural road trip through a landscape of a consciousness, both reflective and outlandish, chronicling a seeker of experience, adventures, and justice." - Daniel Kerkhoff, Artist-in-Residence, Blue Dragon Children's Foundation, Hanoi, Vietnam
"…recalls works by such writers as Lawrence Ferlinghetti and Gregory Corso. Like them, Haliday employs long, loose lines; unexpected phrasing; wordplay; and musical rhythms. And like them, he defies the conventional and mainstream." - Kirkus Reviews
alone, raining
New music by Sean Egan
Eleven instrumental compositions on piano, clarinet, saxophone, whistle, and percussion
"…truly a piece of art, seamlessly weaving together bold strands of contemporary chamber music, avant-garde jazz and a global rhythmic approach, with a touch of eastern mysticism - and a generous portion of "yiddishe blues" exuberance. Outstanding work…"- Jeffrey Jones Music Director/PM Edition Host WOJB-FM 88.9
"A phenomenal display of creativity and virtuosity. The range of color and emotion is astounding - from the gorgeous, flowing, meandering melody of Riverstory to the hard driving rhythms of Graffito to the wild klezmer clarinet and saxophone of What?, Sean's talents and imagination seem limitless." - Marlene Pauley, clarinetist & conductor of Family and Education Concerts, Saint Paul Chamber Orchestra
"…an unabashedly personal statement…recommended for the obvious creativity involved and the courage of the artist to go his own way." - David Kane, Cadence Magazine
The Doon Céilí Band: Around the World for Sport
The Doon Céilí Band honors the great musical traditions of Ireland with wonderful ensemble playing and tasteful settings of well known and rare tunes.
"Beautiful selections played with great care…this record is a revelation…it's Ireland in America." - James Kelly, TG4's 2006 Irish Musician of the Year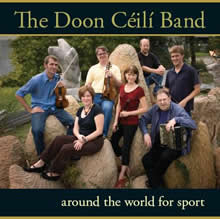 The Blackbirds: The Earth and the Gravel
An earthy and powerful concoction of Irish, Welsh, Breton and American traditional music, featuring accordion, banjo, bouzouki, clarinet, whistle and 5-gallon water bottle.
"…a beautiful recording…reaffirming the fact that the waters of Celtic run deep and strong and are capable of mingling new currents and streams without ever losing contact with its headwaters." - Fred Keller, Rambles.NET
Sean Egan appears as a guest artist on these fine recordings:
Irish Music:
Children's Music: